Crossmark adds Wide-Format Printing and Digital-Cutter
AGFA Jeti Titan HS Flatbed UV
• 6' x 10' bed prints on substrates up 2" thick
• 6 color
• White
• Varnish
ZUND G3 L 3200 Digital Cutter
• High-speed Cutting
• Routing
• Creasing
• Scoring
• Kiss-cutting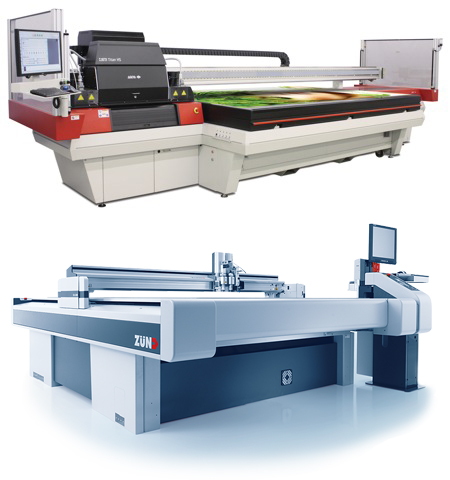 The Titon, with a 7 pico liter spot size, takes high quality another step further and with six color printing (high fidelity CMYKLcLm with the addition of light cyan and light magenta expand the range of color gradations, making it possible to print more grey levels for more realistic, smoother skin tones and subtle degrades, producing more photorealistic images. Titan inks are vibrant and high fade resistance and excellent lightfastness.
The Zund Digital Cutter can cut Rigid Foamcore, Acrylics, 3D Displays, Aluminum Composites, Wood, Advertising and Message Boards, Table Plates. You name it and the Zund can cut it without the cost of dies.
---
Crossmark Passes G7 Re-Certification

Crossmark Graphics, in our quest to provide our customers with continuing high quality and consistency in printed products and services, has achieved qualification as a G7 Master printer. The G7 process utilizes existing ISO 12647 Standards as the basis for quality printing. This process makes it possible achieve a proof to press and a press-to-press match with a greater degree of consistency and predictability than ever before.




---
Crossmark Offers Web to Print Solution
Ask your Account Representative for a Demonstration Today!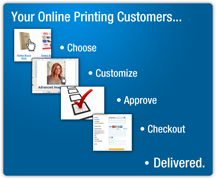 Our Storefront Solution is a web-based ordering portal for print buyers allowing users to order products and create customized documents online. Users can upload PDF documents, personalize and customize their documents, preview proofs, manage orders and reorder in an easy-to-use web-based interface.
Some of the most common user features include:
• eCommerce Web-based online ordering.
• No software to install.
• User login, profile, library for images, PDFs and data lists.
• Document customization and personalization.
• Document templates to ensure brand specifications.
• PDF preview for online approval.
• Intuitive check out & shopping cart.
• Third party shipping providers, such as FedEx and UPS.
• Approval workflow.
• Interactive editing.
• Variable print.
• Data list acquisition and data merge for direct mail.
• Site skinning and localization.
---