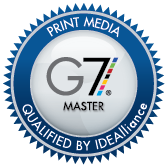 Crossmark Graphics, Inc. has successfully completed G7 Master testing for recertification. G7 Master certification is the highest global color quality standard for print facilities.
G7 Master certification demonstrates that the print facility is a skilled leader in print production. G7 Masters can ensure that colors are consistent from proof-to-press and press-to-press, across all substrates. The G7 process also contributes to Crossmark's production efficiency, reducing ink consumption and paper waste.
"G7 Master standards are one of the most important ways we ensure that our clients' brands are represented accurately, no matter the press or material it was produced on," said Brian Dobrzynski, Production Manager.
To achieve G7 Master certification, print production facilities must work closely with G7 Experts to calibrate their proofing and production systems for the highest level of color management. The G7 process utilizes existing ISO standards as the basis for print quality.
"One of the best ways we can serve our customers is to meet and exceed their highest quality standards, every time," added Brian.
About Crossmark Graphics, Inc.
Since 1987, Crossmark Graphics, Inc. has been helping clients find their happy place through high quality print production and trustworthy service. We offer a full spectrum of services, includ-ing: creative development, pre-press, large format digital, small- and medium-format litho, on-demand printing, lenticular, bindery, promotional giveaways, wearables, fulfillment and more. From direct mail and promotional kits to retail signage and packaging, we make it easy for our clients to stand out among their customers. Tight deadlines? Confining budgets? Last-minute changes? We're up to the challenge of making the impossible happen.
###
For more information, please contact Mark Dobrzynski, Vice President of Sales at mark@crossmarkgraphicsinc.com.